Why Does Tire Pressure Decrease in Cold Weather?
Have you ever noticed that as winter rolls around, you find yourself having to fill your tires more frequently? Have you heard the dreaded "low tire pressure" chime and light illuminate on your dashboard in the middle of a long commute? We've all been there. But why does tire pressure decrease in cold weather? At Tire Pirates, we're going over why it happens, why your Tire Pressure Monitoring System (TPMS) light may come on, what you should do, and how we can help. For everything else, visit our Calgary auto shop.
Cold Air and Tire Pressure
When the winter rolls around in Canada, and the temperature drops, the air in your tires isn't going anywhere. You don't need to worry about a puncture, hole, or other damage to your tires. Air in colder temperatures condenses. It's the same phenomenon as leaving a basketball outside in cold temperatures. The air is the same in the ball, but it is condensed, taking up less space. As the air in your tires warms up, they will return to normal.
If you notice your TMPS light illuminate in cold weather, it may only be a temporary issue. Usually, regular driving can warm up your tires, causing the air to expand and them returning to normal.
However, you should never flat-out ignore your TMPS light. While the air pressure in your tires may return to normal as the temperature increases, it's a good idea to check the pressure when the light comes on. Your tires lose about .19 PSI per 1 degree Celsius that the temperature drops. Keep in mind – your tires will lose pressure naturally as you drive, regardless of weather changes. Driving with tires at low pressure is dangerous. Always make sure your tires are filled correctly. Improperly filled tires can decrease your gas mileage, lower your tires' lifespan, and decrease their ability to stop on time properly.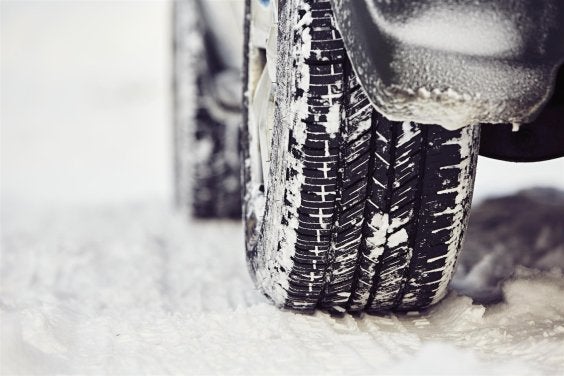 Other Reasons Your Tire Pressure Light May Be On
Cold weather isn't the only thing that can cause your tires to lose pressure. Look out for the following issues when evaluating your tires after your low pressure light has come on:
Puncture
A nail, screw, or other debris may have punctured your tire. Depending on where the puncture is, you may be able to have our team patch it. In dire cases, the tire will need to be replaced. If you notice a foreign object in your tire, do not attempt to remove it yourself. Bring it in to our auto shop as quickly and safely as possible.
Hole
Sometimes, a hole may be the result of a puncture or a tear in your tire. They can vary in size, resulting in varying levels of your air pressure decreasing.
Bulge
A bulge in your tire usually means you hit something large enough to damage the tire. This can also cause the air pressure in your tire to be thrown off. If you notice a bulge in your tire, stop driving immediately and bring it to our shop as fast as possible for us to properly dispose of and replace your tire.
Cracked Rim
If you have recently been in a small accident, hit a curb, or caused other severe damage to your wheels, you can crack the rim. This will result in the wheel not being able to hold tire pressure correctly, and your low pressure light will illuminate. You will need to have the rim replaced or repaired as well as fitted with a new tire.
Time
Sometimes, there isn't a call to emergency at all. In fact, most of the time, low pressure tire lights come on in our cars due to it being a while since we put air in our tires. Remember, your tires lose pressure over time, even in regular weather and driving conditions. Check your tire pressure and add air when necessary. Make sure to check the recommended tire pressure levels on the side of your tire and keep all tires at the same air pressure to maximize performance, mileage, road contact, and safety.
Tire Pressure Sensor Fault
Other times, our tires are fine. And it's our tire pressure sensors that are faulty. If this happens, and it's quite rare, we will look at your car's tire pressure sensors to determine the more in-depth issue. Certain vehicles may also have particularly touchy tire pressure sensors- resulting in a light coming on even if the pressure has only changed by a few PSI.
What Should I Do?
While it can be annoying, you should never ignore your low pressure light. If you aren't sure what is causing the light to illuminate, or you notice your tire is damaged and needs to be patched or replaced, schedule an appointment with Tire Pirates.