RV Maintenance & Repair Specialists
One of life's great enjoyments is travelling via your RV on the open road, especially without worrying if it will break down and leave you stranded. Reliability is the finest "ability" in the RV industry. When you aren't using your RV, you must keep it well maintained in every way. As such, effective maintenance entails much more than just an engine that is tuned correctly. It requires precision, knowledge, tools, technology, and more to make sure your RV is in great shape to avoid breakdowns and costly repairs.
This is something that our skilled technicians at Tire Pirates have. It is crucial to keep in mind that in addition to the engine, routine RV maintenance necessitates paying attention to the electrical system, heater, air conditioner, plumbing system, and more. Learn more about the RV maintenance services we provide for drivers throughout Calgary, and contact us today to schedule your appointment.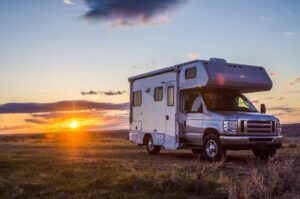 The Importance of RV Maintenance
To ensure that you never have to worry about getting stuck on the open road, let our team of trained RV technicians keep your mobile RV in excellent condition. With decades of combined expertise, our highly skilled and trustworthy crew offers the best mobile RV repair available. Avoid having a mechanical issue, a flat tire, or a dead battery force your RV to break down hundreds of miles from home. Before you are on the road, make sure everything is in working condition by doing regular safety inspections. At Tire Pirates, we provide a variety of popular RV maintenance services in addition to all other mechanical services. There are many reasons why you should conduct routine maintenance on your RV, including:
You will ultimately save money.
It keeps you safe when driving.
It keeps your trailer's resale value high.
It increases the trailer's lifespan.
Of course, accidents happen. When they do, know that the team at Tire Pirates will be here to provide you with fast, reliable, and affordable RV repair services to get you back on the road in no time without worrying about ruining a road trip with the family.
What We Provide
When you contact the expert team at Tire Pirates to conduct your RV maintenance services, you can expect the following services and more:
Chassis Lube
Inspect Belts & Hoses
Transmission Checks & Repairs
Body & Rust Inspection
Check & Adjust Fluid Levels
Roof Inspection
Check & Adjust Tire Pressure
Rotate or Replace Tires
Radiator & Coolant Check
Why Tire Pirates?
Since we first opened in 1991, our client base has expanded significantly, and we are constantly searching for methods to make it bigger. By offering quick and effective services at reasonable pricing, we've managed to stay on the cutting edge of vehicle maintenance and tire repairs. We provide complete automobile services under one roof, enabling you to re-enter the road faster and more safely.
To better serve our clients, our Calgary car repair company has two locations: one in Chinook and one in Foothills. Previous clients are aware that they can count on rapid, effective service, and we always try to make sure you get the most for your money. The staff knows that your 100% satisfaction is our goal and works hard to ensure that you leave that way.
Schedule Your RV Maintenance Service Today!
While we prefer to conduct routine maintenance to keep your RV running great and save you money, we also provide comprehensive repairs and replacements on all makes and models of RVs and campers. If you have encountered a problem, your RV has broken down, or you simply need a tune-up before your next trip, contact our team to schedule your service.
What Sets Us Apart?
Top of the Line Tires
25 Years in Business
Highly-Trained Technicians
We'll Install, Inspect and Repair Tires
Customer Service is Our Top Priority