Best Snow and Winter Tires in Calgary
When it comes to winter tires, Calgary is rightfully served by Tire Pirates. It is easy to find the snow tires Calgary drivers need during the long winter months. We supply winter tires for sale from top leading brands such as Michelin, Toyo Tires, West Lake, GT Radial, BFGoodrich, Uniroyal, Cooper Tires, Goodyear, Firestone, and more. Tire Pirates offers a wide range of snow tires for sale that offers many benefits over all-season tires.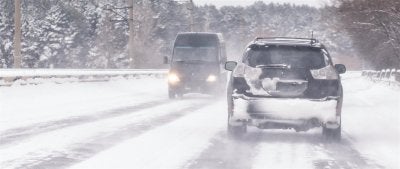 Advantages of Snow Tires
Many drivers are enticed by the promises of all-season tires, but these simply don't offer the same durability in cold weather as they do during the summer. You want a solid grip on the road at all times. Any loss in traction can make it difficult to control your vehicle and can even make driving dangerous. Here are some things to consider when switching completely over to winter tires.
Tread Patterns: A softer rubber compound remains pliable in cold temperatures. There are also wider grooves in the tread that help drain water, allowing better traction in the snow and ice. Small slits in the tread enhance the grip, as well, and prevent hazards such as hydroplaning. This results in better control while driving in snow, rain, ice, slush, and other treacherous road conditions.
Air Pressure: Calgary winter tires are typically calibrated to the proper air pressure. The correct pressure maximizes traction and handling and enables tires to last longer. Although you can check and adjust the inflation pressure in fall and early winter, opting for Calgary tires for sale is the best bet. As a general rule, there is a one psi change in tire pressure for every 10°F change in outside temperature.
Replace All Four: Installing just two winter tires is not enough. Only by installing a full set can you ensure they are all matched and provide the same level of grip. Otherwise, there may be issues with handling the vehicle, you may not get proper steering response, or the vehicle might spin out when cornering or braking.
How to Find Good Tires for Winter in Calgary
Unless you're familiar with tread patterns and are a tire expert, you may not know how to identify winter tires. One way to do so is to look for a snowflake symbol. This pattern is added to the tire sidewall. All-season and standard tires do not have it.
Do you need to a seasonal tire change? When shopping, you want to find exactly the right tire for your vehicle. The most popular brands tend to be the ones with the best quality, durability, and reliability. Last, you want to consider price. There's no need to spend top dollar and, when you shop with a company like Tire Pirates, you can easily find leading-brand winter snow tires for sale in Calgary at competitive prices. Browse our site by vehicle year, model, make, tire size, trim, and category. For assistance, call us at 403-907-0394 in Foothills – Calgary or 403-907-0431 in Chinook – Calgary.
What Sets Us Apart?
Top of the Line Tires
25 Years in Business
Highly-Trained Technicians
We'll Install, Inspect and Repair Tires
Customer Service is Our Top Priority