Top-Tier Wheels & Tires in Foothills and Chinook, Calgary
Tire Pirates Is Your Trusted Company for Custom Wheels
Tire Pirates offers a selection of wheels and tires to Foothills and Chinook, Calgary drivers. Since 2006, we have strived for excellence by providing fast and efficient services to our community at a competitive price. Our licensed professionals have years of experience providing customers with the best options for riding on the road. Whether you need wheels for your truck, SUV, or sports car, we carry top-notch brands that function at the highest quality. Contact us today or pay a visit to choose your next set of wheels.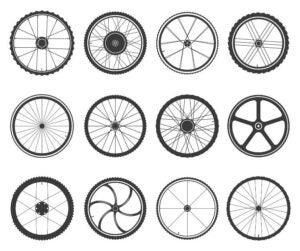 How Are Wheels Manufactured?
Wheels come in all types, shapes, and sizes. When purchasing them, it's essential to know how they're manufactured. Manufacturers produce wheels by casting or forging, which is how the metal is processed. Casting is when the metal is melted into a liquid and poured into a mould. It's quick and less expensive if you want to save money. Forged wheels are milled out of billet aluminum, making them lighter with more excellent designs. Either of these plays a factor in the two types of wheels most vehicles use: steel and aluminum.
What Purpose Do Steel Wheels Serve?
Steel wheels are useful for utility purposes over design and aesthetics. They are heavy, which allows them to withstand intense weather conditions. However, they can put a strain on the axle and fuel efficiency of your vehicle over time. This could affect unwanted spending and maintenance that will play a factor in your budget. Most police cars use steel wheels to slam into curbs without damaging them.
Why Are Alloy Wheels the Most Popular?
Alloy wheels are known to be the most used type of wheel. They are lighter in weight, which places less strain on your vehicle and improves fuel economy. Your driving performance is also advanced with better braking and accelerating. These wheels will put long-term wear and tear on your tires due to their tendency to crack and bend. Manufacturers can quickly produce several designs with alloy wheels because of their style and functionality. They are resistant to rust and corrosion that would easily strip away the aesthetics.
What Should I Consider When Purchasing New Wheels and Tires?
When looking into new wheels to accent your tires and rims, there are options for all types of vehicles. Our team can customize your order to fit your ride's style and personality. Wheels are manufactured in all shapes and sizes to function correctly with the make of the vehicle. Performance is vital in addition to your interest in looks. It's best to consider the following when purchasing wheels for your car:
Buy From Reputable Wheel Retailers – Though there are many wheel options, purchasing from a trustworthy retailer is essential. Affordable wheels are great if they meet the standards for your vehicle and the law. Our professionals can help you find the right fit for your budget and ride based on our competitive deals.
Consider the Lug Nut Layout – Wheels are tethered to the layout of your vehicle. You can't choose a set like you can a pair of shoes. Mounting points vary per manufacturer, so it's vital to ensure your wheels line up with the holes on the stud pattern.
Diameter Is Everything – Changing your car's wheel size will affect how it drives. Speedometers and odometers read speed based on how the tires rotate. The larger the diameter, the lower the speedometer reading. Bigger wheels cover mileage for longer distances and can downgrade keeping track of accurate miles.
Choose Modestly – Most people purchase larger wheels for aesthetics. Remember that if the wheels are too big or small, they will compromise safety and comfort.
Avoiding Stretching – Fitting wheels with tires that are smaller than a manufacturer recommends will quickly cause wear and tear. It's dangerous to stretch tires farther than they should generally go. This leads to weakening and tire blowouts.
Pay Attention to Offset – Offset aids in your vehicle's steering system. Wheels should fit comfortably to balance the car's suspension. When out of balance, driving safety could be impaired.
Let Us Help You Choose Your New Set of Wheels
Tire Pirates offers wheels at an unbeatable price for your best interest. When comparing costs to our competitors, fill out an online quote. Some tire companies charge additional fees for installation and balance. Our prices include both services so you can purchase wheels tethered to your budget. Contact us today for questions, or stop in for a look at our selection.
What Sets Us Apart?
Top of the Line Tires
25 Years in Business
Highly-Trained Technicians
We'll Install, Inspect and Repair Tires
Customer Service is Our Top Priority