Tire Pirates Checks Your Shocks and Struts
Have you noticed a significant decrease in the way your car bounces as you go over potholes or speedbumps? You may need to have your shocks and struts changed. Your vehicle will only have one or the other, and the experts at Tire Pirates can help you discover which so we can replace them with ease. While both perform similar functions, they will be unique to your type of vehicle. Our team of technicians works on all makes and models to ensure success whenever you bring in your vehicle. Thanks to our dedication to the industry, we also have access to the best options available when you need new shocks or struts. We give residents in Calgary a smooth ride again.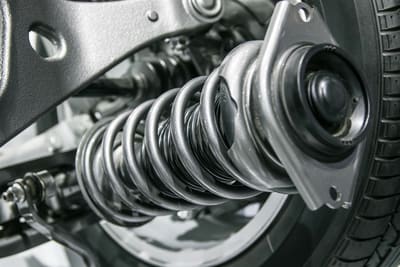 Do I Need Shocks or Struts?
No vehicle has shocks and struts. You either have one or the other, and if you are unsure, the professionals at Tire Pirates can help you determine what makes your ride smooth. No matter which you have, you want to make sure they are in tip-top shape. Shocks and struts are vital to your vehicle's performance. They absorb any rough terrain you travel over, and that includes exploring Calgary's forested area. You can also take on potholes like a champ when your shocks and struts are in good condition. If you notice issues with the way your car, truck, or SUV handles these obstacles, you must seek out Tire Pirates' help. Leaving these issues unattended can lead to more significant and more costly problems and potentially a major accident.
 What's the Difference Between Shocks and Struts
While they perform the same tasks, shocks and struts are different parts unto themselves. Our experts can identify which is which and help you get them repaired or replaced. We will also educate you as to which one your vehicle requires. We can also answer any other questions or concerns you may have about them. Below we have listed the differences:
Shocks: They are a vital to your vehicle's suspension system. Shocks help your car from bouncing off rough roads and help maintain balance. They keep your wheels on the surface of the road and absorb the energy. Consisting of a piston, a coil, and hydraulic fluid, you can easily go over bumps and potholes without going through a jarring experience.
Struts: Front-wheel drive vehicles use struts as one of the main components of their suspension system. Struts use many different parts for their assembly, including a coil spring, spring seats, shock absorbers, strut bearing, and steering knuckle to prevent your wheels from bouncing off the road.
Signs You Need Your Shocks and Struts Inspected
We understand you may not be into cars the way we are, which is why we want to help you know when it's time to bring in your vehicle for inspection. As soon as you begin to notice these issues, bring your vehicle to Tire Pirates. Our mechanics and technicians can discover the root of the problems and either repair or replace your shocks or struts quickly to get you safely back on the road. One major issue is that your shocks and struts degrade slowly over time, so it may not feel like an issue until it is a significant problem. We suggest having them inspected for maintenance every year, but if you notice any of the following problems, please be sure to bring in your vehicle:
Your car is rougher when you drive
Your car bottoms out when going over ramps or speed bumps
It takes longer to come to a complete stop
Front end tipping forward when reaching a full stop
Noticeable swaying when turning or during strong winds
Tires start cupping even when regular rotations have been performed
Cracking, peeling, off-center suspension brushings
Leaking oil on parts under the hood
When Should I Have My Shocks and Struts Replaced?
There is no straight answer to this question because each driver handles their car, truck, or SUV differently. Leading industry research has shown that 50,000 miles are the time to have them switched out and replaced on average. After noticing any of the issues above, we highly suggest bringing them into us to perform an inspection to determine if they need replacing or not. We are upfront and honest and will never recommend a replacement unless absolutely necessary.
Reach Out to Tire Pirates Today for Shocks and Struts
At Tire Pirates, we help with more than shocks and struts. You can bring your vehicle in for wheel alignments, oil changes, brake pads, and obviously tires for all seasons. The services our skilled and well-qualified staff provides are unparalleled in Calgary, and you will not receive better customer service from anyone else. Trust our team to get your car the help it needs to quickly and safely get back on the road. Give us a call or stop by our shop today.