Brake Repair Services on All Vehicle Types in Calgary, AB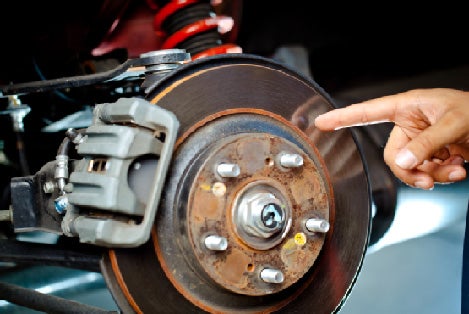 Expert Brake Repair Services for Calgary, AB Drivers
Stay safe on the Calgary roads with professional brake repair services from Tire Pirates. Having bad brakes in your car doesn't just mean they don't work at all; yours could be sticky, squeaky, rusted, or any other type of damaged. Because your vehicle's brakes are the most important part next to tires in terms of safety, you want to make sure they're always optimized. Every time you drive, you put your trust into the quality of your brakes. It's important to make sure they're working properly, and the best way to do that is to bring your car to Tire Pirates. With years of experience, state-of-the-art technology, and a veteran staff, we'll make sure your brakes are perfectly fit. We make sure you're safe out on the Calgary roads. Call us today to schedule your brake repair service.
Brake Repair Services You Can Depend On
Eventually, every driver faces the need to slam on their brakes to avoid an accident. When these moments happen, you want to have the peace of mind that yours will work how they should. By having the experts at Tire Pirates serve your brakes, you know you're getting quality work. Our certified team conducts repairs and maintenance on your entire brake system, including brake pads, rotors, cylinder work, replacements, and full installations. Don't put off repairing or maintaining your brakes because they work "pretty well." At the first sign of a dip in quality, give us a call or bring your car in. Most modern brakes have a built-in component that lets you know when their pads are starting to wear thin. If you start hearing a slight squealing sound while braking, it may be time to consider service. The louder the sound, the more vital it becomes to bring your car into our garage. We're here to keep Calgary safe through professional brake repair services.
How Do I Know if My Brakes Need Service?
Most likely, you're not constantly slamming on your brakes throughout regular driving. Because of this, there are other ways to determine the quality of your brakes. If you're experiencing any of the following situations, chances are, your brakes require service:
Squeaky or squealing sounds while braking: This is either moisture on your brakes or the brake pads wearing thin and letting you know they need service soon. If you hear a screech each time you brake, no matter how hard, it's time for service.
Grinding sound while applying brakes: This is worse than squealing. If it sounds like metal on metal every time you press the brake pedal, your brake pads have completely worn out. You need to bring your car in right away.
Low Brake Pedal: If you notice your brake pedal traveling farther towards the floor when you press it, you may require maintenance.
Car vibration while braking: Either your car shakes or the brake pedal itself vibrates while braking.
Vehicle pulling to one side: You notice your car pulls to the left or right while braking. This could be an issue with your brake calipers or wheel cylinders.
Requiring more pressure to brake: Your brakes aren't working efficiently for you and require service.
Free Brake Inspections for Calgary, AB
At Tire Pirates, we care greatly about our community, which is why we offer free brake inspections at our shop. You shouldn't have to worry about paying an arm and a leg just to remain safe on the road. If any of the above issues apply to your vehicle, don't take a chance. Sometimes, early warning signs can lead to more costly repairs if left untreated. It never hurts to know how your car is performing. In fact, we highly recommend it! If your wheels are squeaking or you notice having to work a little harder to stop your car, don't delay. Bring it into Tire Pirates today for a free brake inspection.
The Trusted Name in Brake Repair
Unfortunately, not all brake service centers are created equal. Next to your car's tires, the brakes are a vital component in keeping you safe during your commute. You want the best for your car, but you also don't want to break the bank. We understand this conundrum, which is why we offer top-quality brake repair work without setting you back. We believe that people shouldn't have to take a gamble on their brakes. Our team provides safe, efficient, and affordable brake service for Calgary, AB and the surrounding communities. We're all on the road together, so let's take the time to stay safe. Call us today to schedule an appointment. We also conduct tire and full vehicle services and repairs.
What Sets Us Apart?
Top of the Line Tires
25 Years in Business
Highly-Trained Technicians
We'll Install, Inspect and Repair Tires
Customer Service is Our Top Priority