Calgary Auto Repair Services
Nothing will derail your day and cause ruin your day more quickly than a car that won't start. Modern cars are complicated machines. There's a lot that can go wrong, and inevitably something will stop working right at the least opportune moment. That's why it's important to bring your car in to an auto repair garage with skilled professional mechanics that can get you back on the road and back at the grind in the most efficient manner possible.
Our name may be Tire Pirates, but our expertise extends far beyond just tires. Our full auto repair shops in Calgary are here to help when you need it most, whether you need new tires or a full-on engine repair. Our auto maintenance professionals have the on the job know-how and experience to diagnose and repair your car quickly and for a reasonable price; you won't waste any time waiting on sub-par repairs.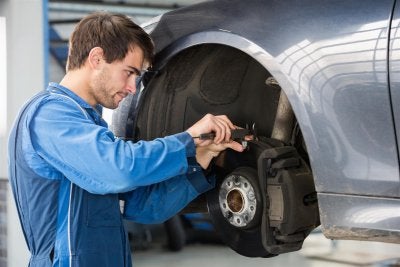 All-Around Excellence
From preventative maintenance to electronics and suspension repair, Tire Pirates has skilled mechanics on hand that know how to get your car back up and running. We offer the full gamut of auto repair and maintenance services, including:
Steering and suspension

Brake inspection and service

Heating and air conditioning

Struts and shock absorber repair and replacement

Tune ups and auto diagnostic services

Alignment and balancing

Tire repair

Out of province inspections
And, of course, we stock a wide variety of top-tier tires for all your replacement needs, including brands such as:
BF Goodrich

Firestone

Goodyear

Cooper

Bridgestone

Hankook

Michelin

Pirelli

Uniroyal

Toyo

Yokohama

Westlake
No matter what type of service your car needs, Tire Pirates is here to help. We've been in the tire and auto repair business since 2006, and in the last decade our customer base has grown and expanded based on word of mouth and our outstanding customer service record.
Don't settle for less than the best service for the best rates. Our goal is 100% customer satisfaction, and our staff provides quick, efficient, and thorough service to that end. We believe in creating repeat customers by treating each job with dedication and care, going the extra mile to make sure your vehicle is operating at peak performance levels when it leaves our shop.
Serving You with Two Locations
It's important to us that our customers have access to the best in the business. That's why Tire Pirates provides full auto repair services at both of our Calgary locations in Foothills and Chinook. Whether you're just hearing a funny noise from your car or it simply doesn't function anymore, our service professionals in Foothills and Chinook will work "tire-lessly" to get you back on the road and back in command of your own agenda.
Contact Us Today
From world-class tire service to full-scale engine repair and everything in between, Tire Pirates is your one stop shop for auto repair in Calgary. Visit one of our two locations and discover the difference that professionalism and attention to detail make when it comes to car repair. Contact our Foothills location at (403) 907-0394 or our Chinook location at (403) 907-0431 and speak with a qualified technician today.
What Sets Us Apart?
Top of the Line Tires
25 Years in Business
Highly-Trained Technicians
We'll Install, Inspect and Repair Tires
Customer Service is Our Top Priority