Does Your Car's Oxygen Sensor Need Replacing?
If your check engine light comes on, you could have an oxygen sensor issue. Your vehicle's oxygen sensor measures the amount of oxygen in the engine's exhaust gases. If your car's oxygen levels aren't meeting the proper ratio for gasoline levels, it could have a negative impact on your engine's performance. Tire Pirates provides oxygen sensor replacement services for residents in Calgary. For over 25 years, we've offered comprehensive auto repair shop services. We exceed customer expectations by providing optimal services for tires and auto needs. Stop by one of our locations in Foothills or Chinook today!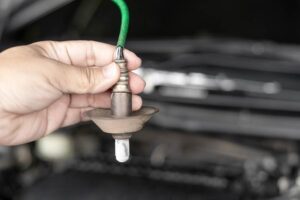 What Is the Oxygen Sensor?
Your vehicle's internal combustion works by burning gasoline. It needs a ratio of 14 grams of oxygen for every one gram of gas. Your oxygen sensor is part of the emissions system that helps keep this balance in check. When the sensor needs replacing, your vehicle may lose almost half its fuel efficiency because it burns too much gas. The O2 sensor is essential to help your engine mixture stay healthy. Your car may have one to four sensors, depending on the engine make, type, and model.
Signs of a Faulty Oxygen Sensor
A faulty oxygen sensor may show signs before flashing the "Check Engine" light. You may have a bad oxygen sensor if you experience any of these signs:
Engine Misfiring
Rough Idle
Emissions Test Failure
Decrease in Fuel Mileage
Check Engine Light
Poor Performance
The Smell of Rotten Eggs
Consequences of a Faulty Oxygen Sensor
Driving a faulty oxygen lowers your vehicle's performance and drops its fuel efficiency. You may notice your vehicle stalling and experience a delay in acceleration. One of the most expensive and notable consequences of a faulty oxygen sensor include damage to the catalytic converters. If you drive your vehicle with an inadequate fool mixture, it will begin to burn through the catalytic converter. Getting an oxygen sensor replacement as soon as possible is essential to ensure your vehicle works in optimal condition.
Replacing Your Vehicle's Oxygen Sensor
Newer car models' oxygen sensors are designed to work efficiently for 60,000 to 90,000 miles. Our qualified technicians are experienced in diagnosing and replacing oxygen sensors. We understand it's best to replace instead of repair oxygen sensors due to their technology and materials. Some places may tell you to clean the sensor, but you will only delay the inevitable and damage it even more. We ensure your oxygen sensor replacement is installed correctly to repair the issue.
Let Us Diagnose & Repair a Faulty Engine Light
The most important thing to do when you see your check engine light is contact us. A check engine light is a message that your car is sick. Our experienced team will quickly and efficiently diagnose and repair your issue. Tire Pirates provides high-quality customer service and products at our two locations in Calgary, AB. We handle all your car's needs, from tune-ups to tire repairs. We understand oxygen sensors fail, so we'll quickly get you an oxygen sensor replacement and have you on your way. Our qualified service technicians are ready to assist you with your tire and auto maintenance needs. Please contact us today or feel free to stop by one of our locations.
What Sets Us Apart?
Top of the Line Tires
25 Years in Business
Highly-Trained Technicians
We'll Install, Inspect and Repair Tires
Customer Service is Our Top Priority