Tire Pirates: Caring for Your Vehicle's Radiator
Your vehicle's radiator is necessary to keeping your car cool and running. If you suspect that your radiator is having problems, Tire Pirates will inspect and completely repair your radiator system. With our exceptional radiator services in Calgary, AB, our auto technicians will ensure that your vehicle is safe to drive and is functioning at its best. The radiator is an important component, and it acts as a cooling system for the other powerful systems that make up your vehicle. The radiator uses a series of coolants, hoses, and fans to remove excess heat that is given off by your car's engine. When the radiator is not functioning correctly, the car's engine can overheat. This is dangerous and bad for the operation of your vehicle. If you are worried about your car's radiator, let our highly trained professionals inspect it today.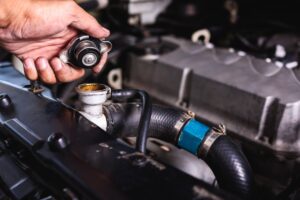 How Does a Car Radiator Work?
A car radiator is the necessary cooling system for your vehicle. The radiator uses a water pump system to move coolant through tubes to and from the engine and the radiator itself. The coolant travels through the engine and removes the heat that the engine puts off. When the radiator does not work, the engine does not have a way to cool down. This can be very dangerous for your car. The radiator is made up of fans, tubes, belts, fluids, sensors, and more. Since there are so many components that make up the radiator, there is quite the room for areas to be repaired. The most common problem that radiators encounter is a leak. If your radiator is showing signs of a leak, Tire Pirates can identify the cause and repair it quickly.
Complete Radiator Services at Our Shops
At our two tire and auto repair shops, we provide fast, reliable radiator repair services. If you are worried about the status of your radiator, stop by our Chinook or Foothills, Calgary locations and our professionals will inspect it for you. Our team will ensure that everything is running smoothly and that your radiator is in good condition. If we find that your radiator does require repairs, we will walk you through that process. We will inspect and evaluate all of the belts, temperature sensors, coolant, hoses, fans, and water pumps. Our auto professionals always do a thorough job, taking extra precautions to ensure that no details are overlooked. We know how important your car radiator is and the status of your radiator fluids. That is why we offer comprehensive radiator repair services including checking and flushing the coolant.
Regular Radiator Maintenance
In addition to repairing or replacing your radiator, our team provides regular maintenance care services for your radiator as well. The coolant that is used in the radiator needs to be changed regularly in order to keep your radiator in good shape. The process of changing the coolant is also known as flushing. When our professionals flush your car's radiator system, it involves draining and replacing the coolant, or antifreeze, with new fluid. Our team will also run distilled water through the radiator before adding the new coolant. This process removes all of the rust and dirt that naturally builds up in the system. Our experts say that flushing your radiator system is recommended every five years or 100,000 miles. When it is time for a radiator flush, you can count on our team to do it right.
Count On Our Experts for Radiator Repair and Inspection
In addition to tires, oil changes, and wheel balancing, Tire Pirates provides exceptional radiator services in Calgary, AB. No matter what kind of care your radiator needs and no matter what you drive, we can help. We are highly trained to service both passenger vehicles and commercial vehicles. Our team recommends that you have your radiator inspected at least once a year as a preventative maintenance measure. Having your radiator regularly checked by our professionals will prevent more costly repairs from being necessary. If you have just hit the five-year mark since your last radiator flush, bring your car to us, and we will perform a fast coolant change for you. Prevent your car from overheating by keeping up with your radiator system the right way. Contact our auto professionals today and schedule a radiator repair service.
What Sets Us Apart?
Top of the Line Tires
25 Years in Business
Highly-Trained Technicians
We'll Install, Inspect and Repair Tires
Customer Service is Our Top Priority